Healthy Eating
Healthy eating is a way of balancing the food you eat to keep your body strong, energised, and well nourished.
Healthy eating is a great way to:
Have energy all day long
Get the vitamins and minerals your body needs
Stay strong for sports and other activities
Reach your maximum height (if you are still growing)
Maintain a healthy weight
Prevent unhealthy eating habits, like skipping meals and feeling very hungry at your next meal.
What is healthy eating?
Having regular means (3 meals a day, morning, afternoon and evening)
Eating foods from all of the food groups (grains, fruits, vegetables, proteins, dairy proteins and healthy fats) each day
Balancing good foods with other foods, such as sweets and fast foods
Eating when hungry and stopping when you are full
For more information on healthy eating visit www.nhs.uk/change4life.
Balanced meals should contain:
Fruits and Vegetables (lots and lots)
Bread, cereal, pasta and potatoes
Meat, Fish , Beans & Nuts
Milk and Dairy
Look at the eatwell plate to see what proportions of each type of food you should try and eat at each meal: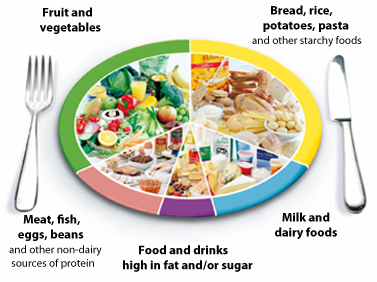 There are important nutrients that your body must have to be healthy:
Foods Containing Fat & Sugar should be kept to a minimum:
Use low fat options where available e.g. mayonnaise, yoghurt.
Do not 'super-size', when eating out have a small portion.
Cut out fizzy drinks and high sugar juices, choose water or 'diet' drinks.
Add less cream or butter in cooking or leave it out completely!
Cut down added sugar in drinks. Better still - leave it out!
Remember, there's no good or bad food - it's the balance that counts!