Healthy Eating Recipes
Check out the recipes below and find more on the Change for Life website.
Healthy Fish & Chips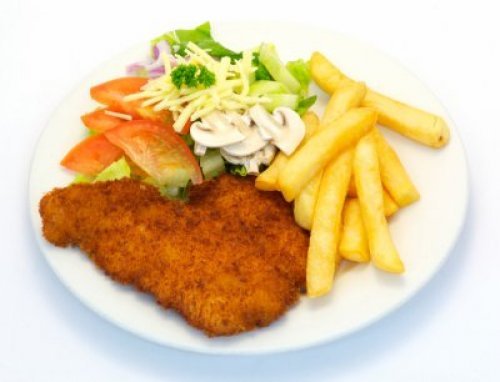 Ingredients:
4 x 150g Plaice Fillets
120g Wholemeal Bread Crumbs
55g Finely Chopped Parsley (or to taste)
Zest & Juice of 4 Limes
Salt & Pepper (to taste)
800g Boiled New Potatoes
80ml/4 Tbsp Extra Virgin Olive Oil
Method:
Part boil the potatoes in unsalted water, drain and cut into thick chips.
Preheat oven to 220°C/435°F/Gas Mark 7. Put the roasting tin for the potatoes to go in, in the oven to heat up.
Mix the breadcrumbs, lime zest and half of the lime juice with the parsley.
Place the fish on a lightly greased baking tray and pour the remaining lime juice over the fish.
Put the chips and oil in a bowl or dish and turn the chips until they are coated in oil
Leaving any excess oil in the bowl, put the chips in the now hot roasting tin and return the roasting tin and fish to the oven and cook for 10 minutes.
Remove the fish from the oven and carefully press the breadcrumb mixture onto the fish.
Turn the chips in the roasting tin over and return both to the oven for a further 15-20 minutes or until cooked.
Apple Crumble
Ingredients:
800g cooking apple(s) (Bramleys) peeled, cored and sliced
2 tablespoon lemon juice
1/2 teaspoon cinnamon
100g flour, plain
20g oats, rolled
1 pinch salt
35g polyunsaturated margarine
25g light brown sugar, demerara
Method
Preheat the oven to Gas Mark 5/190°C/fan oven 170°C
Toss the apples with the lemon juice and cinnamon. Put them into a 1 Litre (3/4 pint) baking dish with 5 tbsp water. Bake for 10 minutes while preparing the topping.
Sift the flour into a mixing bowl and stir in the rolled oats and salt. Rub in the margarine until the mixture looks like crumbs. Stir in the demerara sugar.
Remove the baking dish from the oven and sprinkle the crumble topping evenly over the surface.
Bake for 30-35 minutes until golden brown.
Share the crumble between 4 bowls and serve with low-fat ready to serve custard.
Related Questions
Question:

The effect of surviving on junk food (i.e. chocolate, crisps, fast food) other than obesity?

Answer:

In the short term a diet of 'junk food' can cause tiredness, lack of energy, mood swings, irritability or restlessness, unpredictable behaviour, poor concentration, pale skin, dull hair, dark shadows under eyes, tummy aches, nausea, headaches, frequent colds, infections or other illnesses and constipation or loose bowels. In the long term it can lead to severe health consequences, such as obesity, Type 2 Diabetes, heart disease or high blood pressure.