Pelvic Inflammatory Disease (PID)
Pelvic Inflammatory Disease is an infection in a girl's/woman's genital tract inside her body. The infection can involve the womb (uterus), tubes (fallopian tubes), ovaries and the cervix.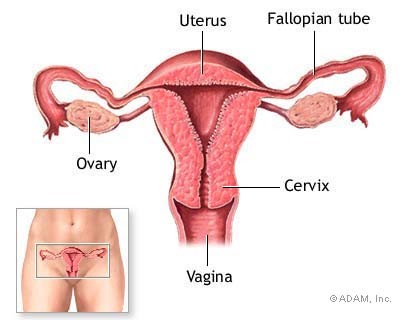 It is very important to treat this infection because otherwise it will keep spreading and eventually can make you infertile (unable to have babies) because your tubes get blocked and your eggs cannot travel down them.
This could mean that if you did get pregnant you might have an ectopic pregnancy where the baby grows in your tubes and not in your womb which is very dangerous.
What are the symptoms?
You can get:
pain in the stomach
pain when you have sex
discharge from your vagina that smells
bleeding in between your periods
painful and heavy periods
feel sick and tired
sometimes you get a fever and feel really unwell
How do we diagnose PID?
We will need to do an internal examination to look and feel your cervix and take some swabs. We cannot say it is pleasant but it is a lot better than having PID.
How is PID treated?
We will give you antibiotics for 2 weeks. Remember antibiotics can interfere with other medicines you might be taking, like the pill or epilepsy tablets. Remember to tell us so that we can adjust your dose. It is difficult to remember to take all your tablets for 2 weeks but it is pretty important to take every dose in this case.
Like an STI, the no sex rule and treating your partner applies.
If you are not getting better with the antibiotics, it is really important to come and tell us.
You should start feeling better in about 2-3 days but remember to keep taking the medications for the entire 2 weeks.
How can you avoid getting PID?
Getting STIs can increase the risk of getting PID because the bugs can be pushed up into your womb. You also increase the risk if you have something done that can push the bugs up inside you, for example, having a coil fitted or having an abortion.
You will always be tested for STIs before you have an abortion or have a coil fitted.
The best way to avoid PID is to avoid getting STIs by ALWAYS using a condom.