Activities
Bsix College
We staged 2 successful health events at Bsix College in Clapton after applying for funding from the Youth Opportunity Fund. We decided to split the days into male/female groups and organised a series of health related activities including massage, street dance, sports and fitness. All of us learned a great deal about event organising, teamwork and organisational skills as well as budgeting and marketing. We look forward to bigger and better events in 2010.
We also helped to develop this website, and communicated with over 70 young people to ask them what they wanted from a health website. This is the finished product and we hope you like it! You need to tell us what you think because we can make improvements. This Zone is your Zone. We have big plans for the future – we want to make our own videos, and upload your videos too, so watch this space!
We look forward to bigger and better events in the future.
Day Out At Stubbers
It was a cold and frosty December morning when we arrived @ the Essex based adventure centre, Stubbers, for a day of problem solving, off -roading and high ropes. We managed to get to the centre by 10am and after a quick registration we were off to commence the first section of the day, the dreaded high ropes, which Neil wasn't looking forward to. We had to get round the course, which involved a mixture of jumping, climbing and screaming with the aid of a harness. Great fun was had, mainly by Sam. We then proceeded to do a bit of off-roading, which Taz seemed to take to like a born adventurer. After a spot of lunch comprising of popcorn and soup (café closed) it was time for the afternoon's activities.
The team challenges really brought the team skills out, with all members really pulling together and completing all the tasks set by the instructors, who provided excellent support all day. We finished off with a bit of archery with boys v girls to spice it up. Iyesha showed her markswomen skills and the girls deservedly won a tight contest.
I recommend Stubbers for anyone looking for an energetic day out with chilled friendly staff. Just make sure you bring a packed lunch!
Interview Panel Members
We continuously help to select new members of staff for the CHYPS Plus and wider Children's service within the Homerton Hospital. There were several candidates and we ask them questions around how they relate to young people. We were supported by staff and the Service Manager. It is really interesting to see how people are chosen for jobs and we gain some good tips on how to behave in an interview, or how not to!
Focus Groups
We helped to look at new CHYPS Plus posters and leaflets. The previous poster wasn't very eye catching so, we gave our feedback, in particular about what would make the poster better for kids our age.
The poster below is what we came up with.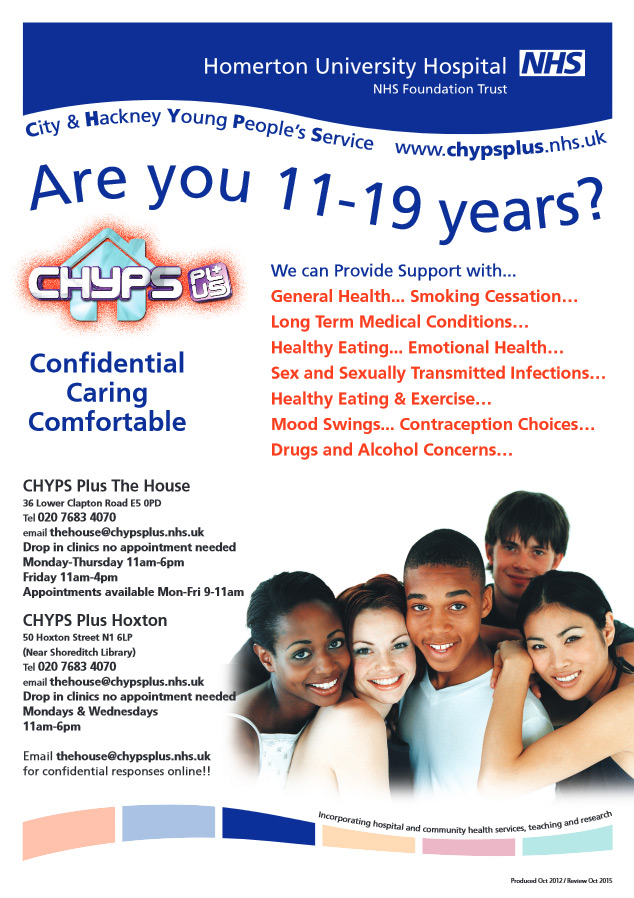 If you would like to get involved please contact us 0207 683 4070 or email Chyps.plus@nhs.net